Custom Signs and Banners for Tyler, TX
A good sign can make the difference between losing and converting foot traffic. Sign Country has provided East Texas businesses banners and signs for over 20 years. We promise quality, craftsmanship, and quick turnarounds.
Let Sign Country help you craft a high-quality, striking custom banner or sign.
Get a Custom Vinyl Sign that Turns Heads
A vinyl banner or sign can attract new customers who may not have known about your business prior to seeing the sign. That's why it's important to make sure that whoever does your sign printing has experience.
Sign Country has over 20 years of experience turning heads in East Texas. We provide sign and banner printing in the Tyler area backed by our exceptional, hands-on customer service.
A Bad Sign is Worse than No Sign
Your business has only one chance to make a first impression. A well-designed, custom vinyl banner that communicates your products and services clearly and effectively can translate into better business and more customers.
A confusing or difficult-to-read sign can leave a lasting impression on potential customers.
A bad one.
That's why the team at Sign Country are committed to working with you to ensure your custom signage is legible and helps communicate whatever it needs to.
If you need a sign that turns heads and converts sales, contact us today.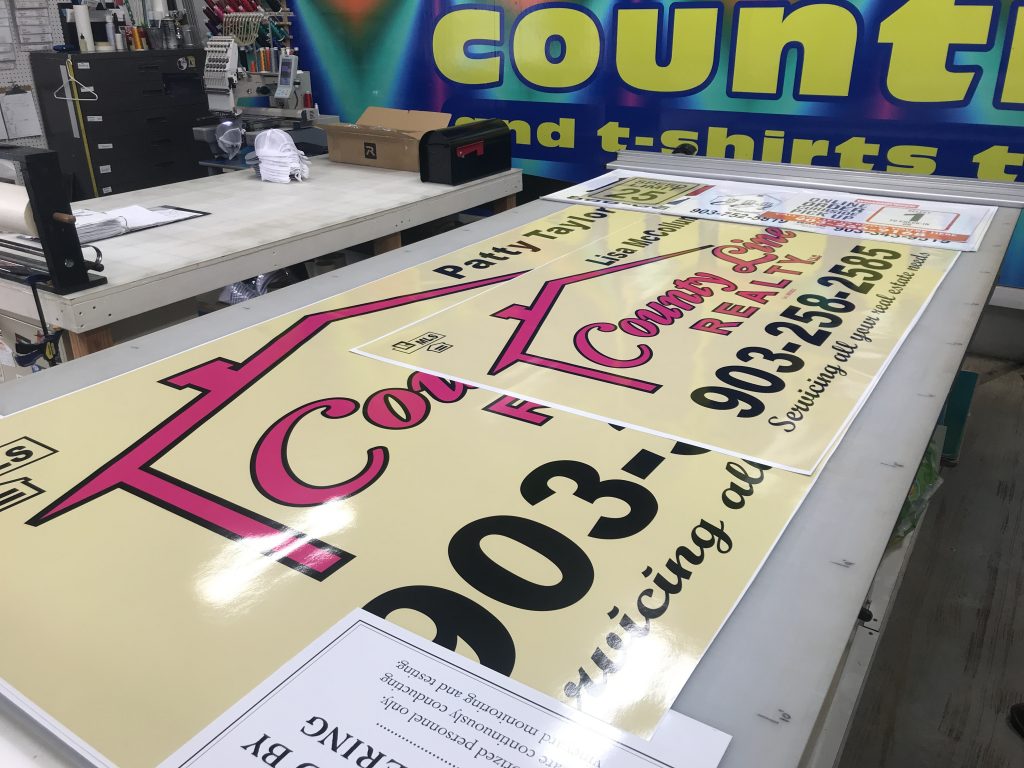 Signs and Banners we've done
How Do You Want to Turn Heads?
Trade Show Banners
A full-size banner can ensure your trade show display gets plenty of foot traffic.
Pop Up Displays
Go anywhere with a pop-up banner that helps you sell your products or services on the go.
Custom Yard Signs
A yard banner or sign is a simple, cost-effective way to get some name recognition.
Graphic Vinyl Signage
We're a full-service vinyl sign maker and can print graphics-based vinyl signs and banners in any size. We can use yours or help you develop your graphics.
Vinyl Wall Lettering
We can print custom vinyl lettering to help turn any wall into a sign. We handle the printing and the installation so you can be sure the job is done right.
Custom Window Decals
Storefront window decals can help window shoppers turn into customers. We'll help you with a custom window decal that draws the eye and generates leads.
Design Services
Need a sign but don't have any ideas? We can help come up with a sign that you'll love. We'll involve you in every step of the process.